WWF's Ming Yao on why China's ivory trade ban matters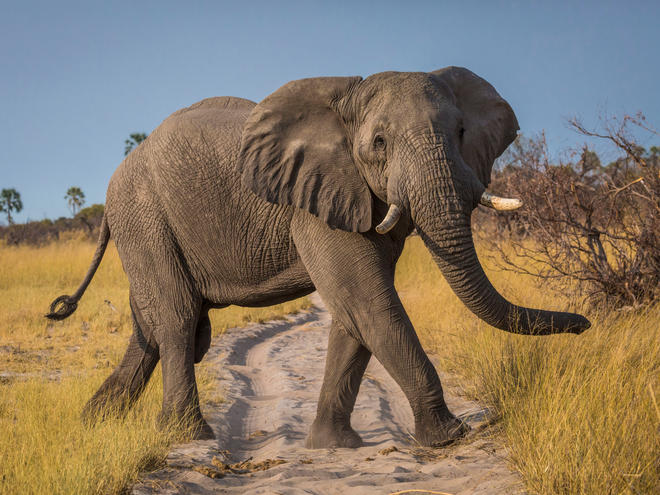 China made it illegal to buy and sell elephant ivory at the end of last year, and the law is already producing positive results.
Among 2,000 people surveyed across 15 Chinese cities with ivory markets, those who previously said that they'd either bought ivory products in the past and planned to do so again, or wanted to buy ivory products for the first time, dropped substantially now that the law is in full force, according to two new studies by WWF and TRAFFIC, the wildlife trade monitoring network.
Additionally, all pre-ban legal ivory shops visited by wildlife trafficking experts in 2018 had stopped selling ivory, and the magnitude of illegal ivory trade in most of the cities and online platforms surveyed had dropped.
Despite these promising results, there's still more work to do. Ivory trafficking hotspots remain in China, including along its border with Vietnam. Awareness of the ban is also low.
WWF spoke with Ming Yao, a member of WWF's wildlife conservation team who has worked closely on ivory demand reduction projects, to learn more about her point of view on China's ivory ban and how it has influenced consumer behavior in her country.

Read the studies here and here.
Ivory has always been part of the Chinese culture and often considered a symbol of achievement. What kind of conversations have you had with friends in China regarding the ban?
My first personal experience with an ivory product was five years ago, when my older sister got an ivory bracelet as a gift from her friend who had recently traveled to South Africa. I clearly remember that the piece of jewelry was stunning, and her friend told us she paid approximately $3,000. At the time, her friend knew it was illegal to bring ivory into China, but there was no explicit ivory ban at that time, so she took the risk and got away with it. Since the inception of the ban, many awareness-raising campaigns have launched and many Chinese citizens have come to realize the importance of protecting elephants.
My friends and I are excited to hear that the ban is having positive impacts. We think that if no one buys ivory, elephants have a great chance or survival. It's important to raise more awareness on the existence of the ban because I still have friends who don't know about it and its importance for conservation.
You're a millennial. Were you surprised by the research findings that millennials are one of the groups most interested in buying ivory in China?
I was very shocked by the results of the recent surveys because I thought young Chinese would have more knowledge of elephant conservation and would not be inclined to buy ivory products. Nevertheless, they are still attracted by the beauty of ivory and what it represents to own it.
We need to work harder to change perceptions and behaviors of millennials and help them see that not by not buying ivory they give hope for elephants.
Have campaigns raising awareness that buying ivory is detrimental to the survival of elephants generated impact on consumer habits?
Yes, most of my friends will not buy ivory products after learning that over 20,000 African elephants are poached every year because of consumer demand for ivory products. They are also very mindful of the legal implications that can occur if they buy ivory.
Many conservation organizations are working hard to stop the demand. Celebrities like actress Li Bingbing have also been key in raising awareness among consumers—but changing mindsets can be hard. We need to continue to inform people so that China can reduce the demand for ivory and instead become a champion for elephant conservation.
What else can we do to stop the demand to buy ivory products?
In the immediate future, we can take advantage of Golden Week, China's biggest travel holiday. Many people travel to nearby countries where elephant ivory is not illegal and bring back ivory products. This is a great opportunity to raise awareness and reduce people's desire to purchase ivory during their trips. We can also engage travel industry leaders and influencers to deliver our campaign messaging to outbound Chinese travelers in popular destinations. This is also a great time to share awareness-raising messaging about legal penalties and law enforcement for ivory smuggling through information placed at key locations, including airports, online travel sights, shopping sites, and other transportation hubs.
Are you taking any personal steps to help stop demand?
I want to use my upcoming wedding as a platform to raise awareness of the ivory ban in Tongling City, a small city south of the Anhui province. We will have around 1,000 guests attending and my fiancé and I want to use this opportunity to have elephant motifs throughout the venue (and even on my dress) that highlight the importance of protecting these animals. We are also working on creating a compelling video with a powerful message that encourages our guests to help stop the demand for ivory products so we can preserve this species.
Published September 28, 2018 at 05:00AM