South Africa's rhino poaching trends show a slight decrease—but death toll remains too high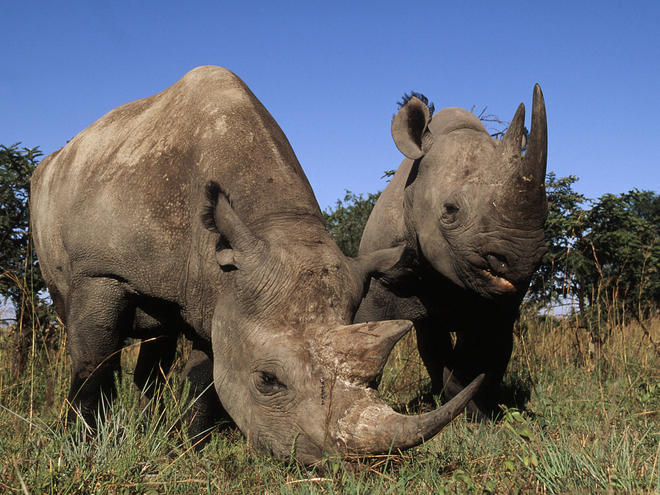 New rhino poaching numbers out of South Africa show a small decrease from the previous year, but the death toll remains perilously high.
The South African Department of Environmental Affairs announced that poachers killed 1,038 rhinos in 2017, down from 1,054 in 2016. Officials recorded a record loss of 1,215 rhinos in 2014.
Much of the poaching has shifted to rhino populations living outside of South Africa's Kruger National Park to places where the risk of getting caught is lower and the benefits are greater.
Unfortunately, we're seeing an increase in poaching numbers for other species in Kruger. Elephant losses grew to 67 in 2017 from 46 in 2016.
"Wildlife trafficking remains a pervasive threat to rhinos, and increasingly to other species such as elephants and lions which bring tourists and jobs to our important protected areas," said Dr. Jo Shaw, African rhino lead for WWF International. "These crimes also affect people living around our parks by exposing them to criminals connected to international trafficking syndicates."
Despite the still dangerously high rhino poaching numbers, the South African government has made some progress in tackling the issue. It has increased the number of convictions for illegal activities relating to rhinos, especially higher up within the criminal syndicates behind the poaching. And it's working closely with communities to get them involved in the legal wildlife economy, including ecotourism.
WWF is supporting and experimenting with community-based approaches to addressing wildlife trafficking and building relationships between key protected areas and people who live among or close to Africa's wildlife. We're also providing equipment and scientific support for rhino protection and safely moving rhinos to more secure areas where their numbers can grow.
You can help rhinos. Pledge to stop wildlife crime and commit to preserving nature's beauty for future generations.
Published January 29, 2018 at 06:00AM